The short term cost to prepare and file a patent application (i.e., secure patent pendency) is about $5,000 to $10,000 on average. This is just for the patent application. It does not include costs for examination.
The long term cost are for examination when the patent application is examined and includes the cost to respond to an office action, pay an issue fee, etc. The examination cost will be around a few thousand dollars to $10,000.
The overall budgetary cost to secure a granted patent would be around $7000 to $20,000. This represents the overall cost (i.e., short term plus long term costs) to prepare and file a patent application to getting a patent.
The cost to prepare and file a patent application varies widely, as you can see if you do any sort of research on the web. The goal in this article is to help you understand the short term costs (e.g., cost to prepare a patent application) and long term costs (e.g., examination costs) to get a patent granted. If you want help selecting a patent attorney, read more about it in Who can help you get a patent?
COST TO prepare and file a PATENT patent Plus examination costs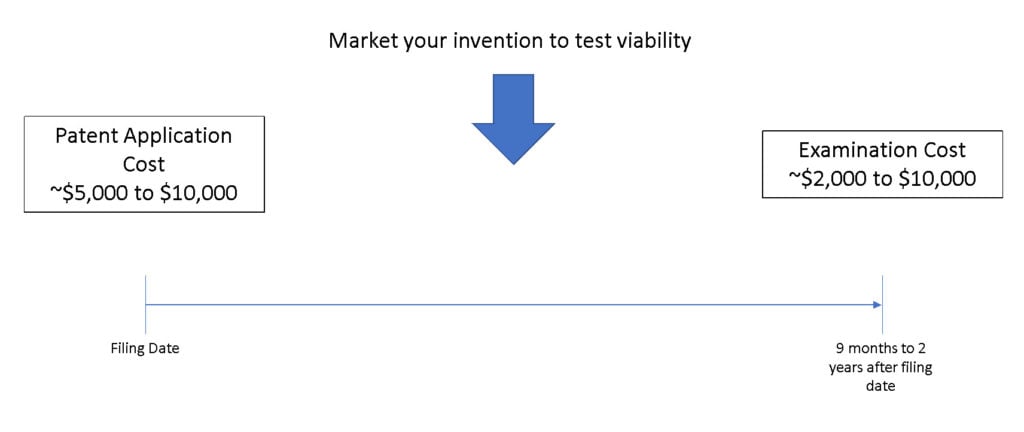 Online companies do charge significantly less than $5,000 to $10,000 for a provisional patent application. However, these cheap patent applications do not include a comprehensive disclosure of your invention. In general, it has been my experience that these include a skimpy explanation of your invention. That is how they get the cost to prepare and file the provisional patent application so low. You, as a layperson, would not know the difference between good quality versus poor quality work.
If you are discouraged with the cost estimates, the more important cost to focus on as you prepare to launch your product is the cost to prepare and file the patent application (i.e., $5,000 to $10,000). By preparing and filing a patent application, you establish patent pendency. Moreover, this allows you to safely market your invention to others between the time period after you file a patent application until you incur additional costs for examination.
If your marketing shows that the invention isn't really desireable, then you most likely won't be incurring downstream examination costs.
In this regard, for most inventors, the cost to prepare and file a patent application (i.e., secure patent pendency) is a more important number because it is the minimum you need to spend to launch your product.
Read more about how the costs can fluctuate based on the strategy that you employ in Patent Cost Framework and Cash Flow.
Patent application cost factors
The actual patent cost to get a patent or secure patent pending status depends on the following factors:
Factor 1: Complexity of the invention
Factor 2: Business environment
Factor 3: Goals of the inventor
Factor 4: Experience level of the patent attorney
Many patent attorneys explain that the cost to prepare a patent application depends on the complexity of the invention. In part, this is a true statement but only a half truth. Cost also depends on the other factors as well. In my experience, factors 2-4 listed above are also important, as explained below.
Factor 1: Cost depends on the complexity of invention
In general, the cost to prepare a patent application depends on the complexity of the invention. The more complex the invention, the higher the patent cost, and vice versa. Put simply, patent attorneys would have to spend more time to include all of the details into the patent application for a complex invention.
Simple Devices
Devices of Medium Complexity
Complex Devices
1. No moving parts

2. Operation of wrench
1. Limited moving parts

2. Some motion (e.g., adjustable head and operation of wrench)
1. Complex internal mechanism

2. Reversable direction and operation of wrench
However, sometimes, the simplest of inventions may cost more than a complex invention. Let me explain. When an invention is complex, the patent attorney does not need to work as hard to set up the structure of the patent application. In contrast, when the invention is very simple, a patent attorney may need to take extra time to understand all of the nuanced benefits of the invention. Because the benefits are nuanced, the patent attorney needs to spend more time describing these aspects so that the true benefits and the structure of the invention do not get lost in the invention's simplicity.
You wouldn't want the patent examiner at the USPTO to think that the invention is so simple that anyone could have thought about it.
Cost depends on the business environment
The business environment of the invention should be taken into consideration when estimating the patent cost of the patent application to secure patent pendency. For example, new emerging tech (e.g., blockchain) might require a fuller disclosure and thus more time. For example, in blockchain technoloyg, it would take more effort to explain how blockchain technology works which is a requirement in drafting a patent application for blockchain technology. In contrast, a new minor twist to old technology (e.g., belts) might require less to explain and thus less time and money.
Cost depends on goals of the inventor
The goals of the inventor is probably the single biggest factor to patent costs. For example, if the inventor wants to secure as much patent protection on the invention as possible, this would make the task of preparing a suitable patent application significantly more difficult. The work involved to give the inventor what they want may involve:
Describing the invention in multiple ways,
Describing all aspects of invention, and
Presenting claims that might go over the limit covered by the basic government filing fee for a non-provisional patent application.
However, if the inventor would be willing to focus in on the point(s) of novelty on their invention, then the costs can be much more reasonable.
Cost depends on the experience of the patent attorney
The patent attorney or company that you select to prepare the patent application for you will most likely be the most important factor in determining the cost to protect your invention.
You can categorize attorneys as belonging to three different groups:
Specialized patent law firms
Solo practitioners
Large law firms will charge significantly more than specialized patent law firm. For most startups and mid-sized businesses, a large law firm is overkill. Large law firms will charge an exorbitant amount of money to work with them. In my opinion, the savings that the startup or mid-sized business can save by retaining a specialized patent law firm could be redirected into other business units or patenting more inventions.
Specialized patent law firms provide a nice balance between quality, patent cost and service. These firms consist of more than a few patent attorneys. Specialized patent law firms have additional bandwidth, so that the patent attorney that you retain can shift work to other patent attorneys within the group to provide timely and cost-effective legal services.The quality of a mid-sized intellectual property law firm is generally equal to the quality of larger law firms for the services that they provide. The cost of a mid-sized firm, although not as cheap as the cheapest solo practitioner, is competitive with that of a solo practitioner.
I am a partner of a specialized patent law firm: Klein O'Neill & Singh LLP.
Solo practitioners have prices that range between very cheap to mid-range pricing. However, it may be that these solo practitioners are also working solo because of various reasons. Also beware of solo practitioners that appear to be a specialized patent law firms when in actuality, they have a number of contract attorneys that do their work for them.
For a more detailed explanation, please read Who can help you to get a patent?
Online provisional patent application services
You can also have a low cost online company to prepare a patent application for you. These companies offer a low cost option to attract inventors who have an understandable attraction to a low cost. In my point of view, you must be careful and determine if these low-cost provisional patent applications provide the quality that you you need.
Let me explain. Not all provisional patent applications are of the same quality. Likewise, the same is true for non-provisional patent applications. To properly protect the invention in terms of patent pendency, the patent application needs to include the point of novelty of the invention. This is something which the patent office cannot and does not check for. If the point of novelty of the invention is not properly explained in the patent application, then even if the patent application passes the minimum standard of the USPTO, the application will not properly protect your invention. Others would be able to go around your patent.
Cost must be balanced with value
You can interview a number of patent attorneys to get an accurate measure of the price for the patent. However, the cost to prepare and file a patent application is not directly related to the value of the patent application. Just because two patent applications from two separate attorneys will cost the same does not mean that the quality of the patent applications produced by those two patent attorneys will be the same.
Let's talk about the patent application itself. There are different ways to prepare the patent application. One way would be to provide a straightforward discussion and explanation of the invention. What would happen here is that the patent attorney would merely spend as little time as possible to think outside of the box to see the bigger picture of the invention. Even if the attorney spent as little time to think outside of the box to see the big picture of the invention, he or she is providing a basic patent application. Other patent attorneys will try to immerse themselves into the invention to find additional benefits and features that the inventor themselves did not think about. They will also include these features into the patent application. Both attorneys can charge the same amount of money but both applications will not be of equal value. Obviously, the latter patent attorney will provide better value for the patent cost incurred by the inventor.
Unfortunately, inventors may not be able to understand or decipher which patent attorney they should retain. I was in a similar circumstance when I retained an attorney to help me prepare my will and set up my family trust. I interviewed two or three attorneys and asked for their pricing. Even though I scored high marks in law school and my wills and trusts class, my education did not prepare me to understand the nuts and bolts of preparing the will and setting up a family trust. The bottom line was that I was unable to determine which attorney provided the best value for the patent cost. However, my education did help in that I was able to make an educated guess as to which attorney could do the job at the lowest price. From that moment, I empathized with my clients – inventors better. Inventors are just like me. They don't want to pay more than what they have to get what they need. I changed my practice in order to help inventors understand not only to give them what they want but also to let them understand what they need to properly secure patent protection for their invention.
Education is important in my family. When my parents immigrated from Korea in 1972, they spoke little English, but one thing that they taught us was that we must get an education. In an effort to educate inventors so that they can make a better decision, my belief is that they need to have a working knowledge of the patent system. Otherwise, how would they tell whether a patent attorney is providing good or bad advice? To this end, I've published my book Navigating the Patent System and provide numerous free resources on this blog to help inventors understand the patent process so that they can make smarter decisions, more cost effective decisions for themselves.
Encouragement for inventors and startups
The above explanation of all of the costs involved in the patenting process can seem daunting. However, the basic strategy still remains the same. Usually the inventor should or normally will bear the cost for preparing and filing a patent application to secure patent pending status. After patent pending status is achieved, in general there are no other significant patent costs until the examination of your patent application starts. This means that the cost that you should be primarily concerned about is the preparation costs, not the other cost mentioned above. I mentioned them in order to inform you they exist. However, the most important cost that you should be aware of the cost to achieve patent pending status. That cost is usually between $5000 and $10,000 for many inventions. Do talk with your patent attorney on ways to cut down costs for the preparation of your patent application.
For more information, please read Highs and lows of the patent process.